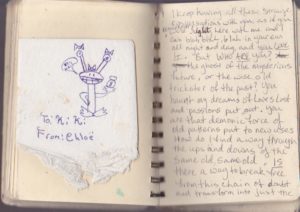 I keep having all these strange
conversations with you, as if you
really exist and were right here with me and I
can blah, blah, blah, in your ear
all day and you LOVE IT!
But who ARE you?

The ghost of the mysterious 
future, or the wise old
trickster of the past?
You haunt my dreams of loves lost
and passions put out.
You are that demonic force of
old patterns put two new uses.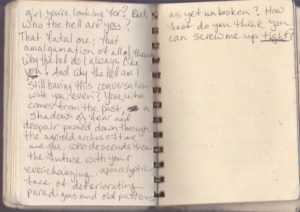 How do I find a way through
the ups and downs of the
same old, same old? Is
there a way to break free
from this chain of doubt
and transform into just the
girl you're looking for?
But, who the hell are you?

That fatal one;
that amalgamation of all of them.
Why the hell do I always like you?
And, why the hell am I
still having this conversation
with you, even?
You, who
comes from the past
a shadow of fear and despair
passed down through
the age-old arches of time.
And you, who descends from
the future with your
ever-changing, apocalyptic
face of deteriorating
paradigms and old patterns
as yet unbroken?
How fast do you think you can screw me up tight?