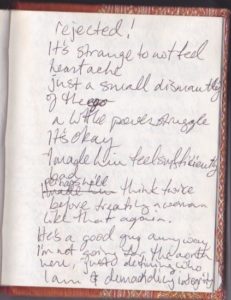 It's strange not to feel heartache
Just a small dismantling of the ego
A little power struggle.
It's okay.
I made him feel sufficiently bad.
Perhaps he'll think twice before
Treating a woman like that again.
He's a good guy anyway
I'm not going for the aorta here,
Just defining who I am and
Demanding integrity.
Seems like it shouldn't be such a tall order…
On paper.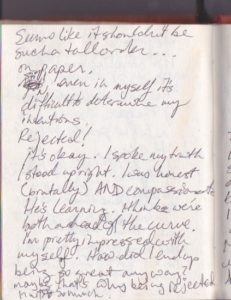 Still, even in myself it's difficult to
Determine my intentions
REJECCTED!
It's okay
I spoke my truth.
I stood upright.
I was honest (brutally maybe),
AND compassionate.
We're both just people.
He's learning. I'm learning.
I think we're both ahead of the curve.
I'm actually pretty impressed with myself.
How did I end up being so great anyway?
Maybe that's why being rejected hurts so much…
January 24, 2011